Coverage from Above the Law and Legal IT Insider now available on LawNext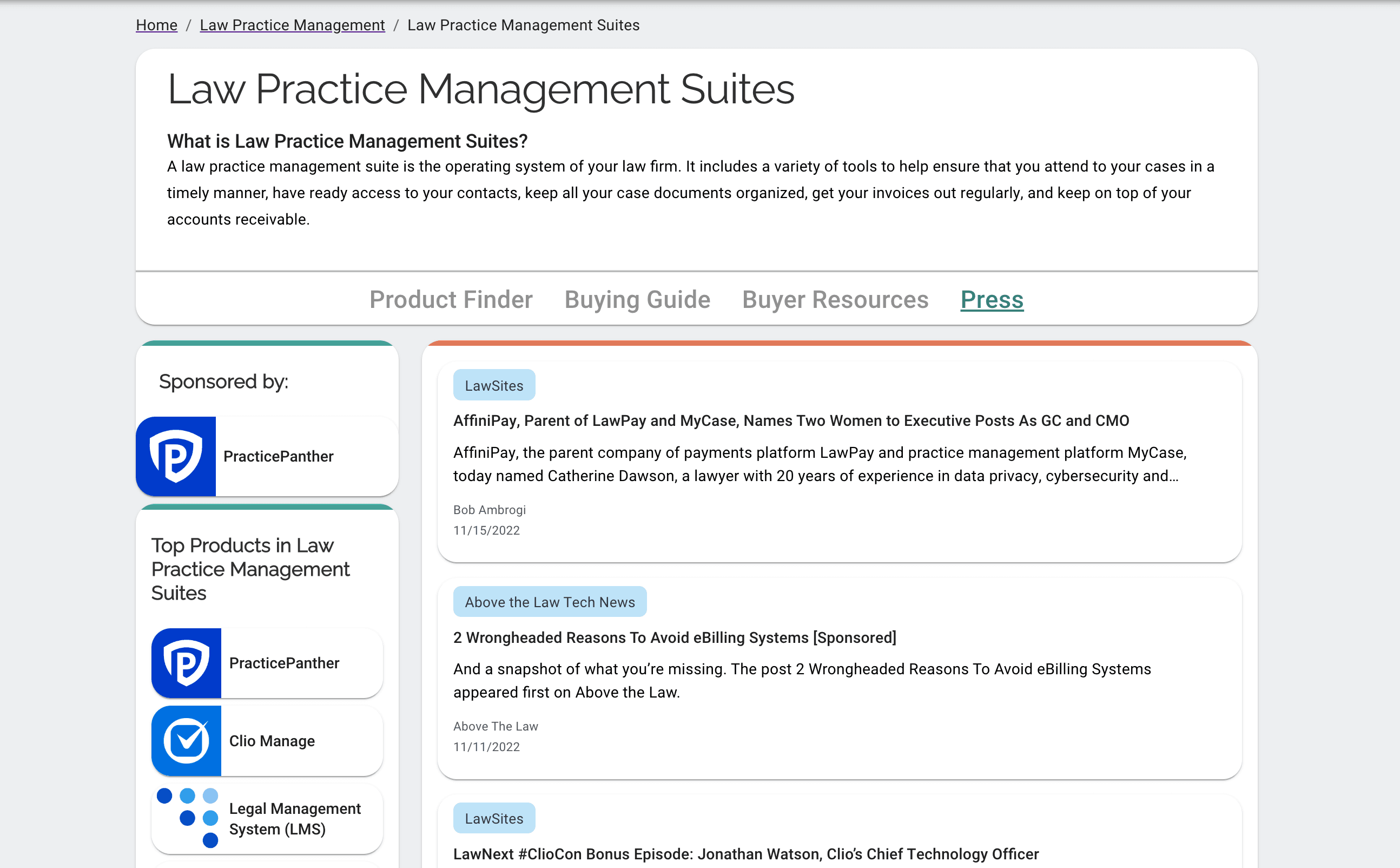 Above The Law and Legal IT Insider added to Legal Tech Monitor
We're excited to announce that articles from Above the Law and Legal IT Insider will now be featured on the LawNext Directory.
For those who don't know, one of the resources available on the LawNext Directory is press coverage aggregated from all major legal technology news sources. If you visit any of our legal technology categories, or the tech center that houses that category, you're able to view all press coverage related to that category and the products within from the News tab.
Additionally, while all of the products listed on our site feature any of the coverage we have written about them, paid listings are also able to showcase any content written about them from any other legal tech news publication, helping to give users a complete picture of a product they're researching.
Legal Tech Monitor
We're able to do all of this through our legal technology news aggregation tool, Legal Tech Monitor. Legal Tech Monitor - created by Bob Ambrogi, and generously hosted and made possible by the folks at LexBlog, is a network of legal tech publications who have opted in to display their coverage on the site.
Above the Law and Legal IT Insider will be joining a long list of reputable sources on Legal Tech Monitor, including:
Law.com's Legaltech
3 Geeks and A Law Blog
DennisKennedy.blog
iPhone J.D.
LawSites
Hanzo Blog
IAALS Blog
Litera Blog
ILTA Blog
Colin S. Levy Blog
InnoTech Law Hub
Trellis
Apptoto
InfoTrack
Klyant
Watson
WiseTime
Legalinc
Sui Generis
PCLawTech
2Civility Blog
Eric J. Seader Medium Blog
Joe Technologist Blog
Techno Gumbo
Northwestern Pritzker School of Law
All About Legal (&) Technology Blog
Docket Alarm Blog
Fastcase News
Indian Legal Tech Blog
Ernie the Attorney Blog
Law Practice Tips
Dewey B Strategic
David Whelan
LegalTech Lever
Seoul Legal Hackers
TechLaw Crossroads
Knovos Blog
Exigent Blog
Shape Blog & Resources
(If you see one we're missing, please let us know at directory@lawnextmedia.com)
---