Announcing LawNext V2 - Updates for Vendors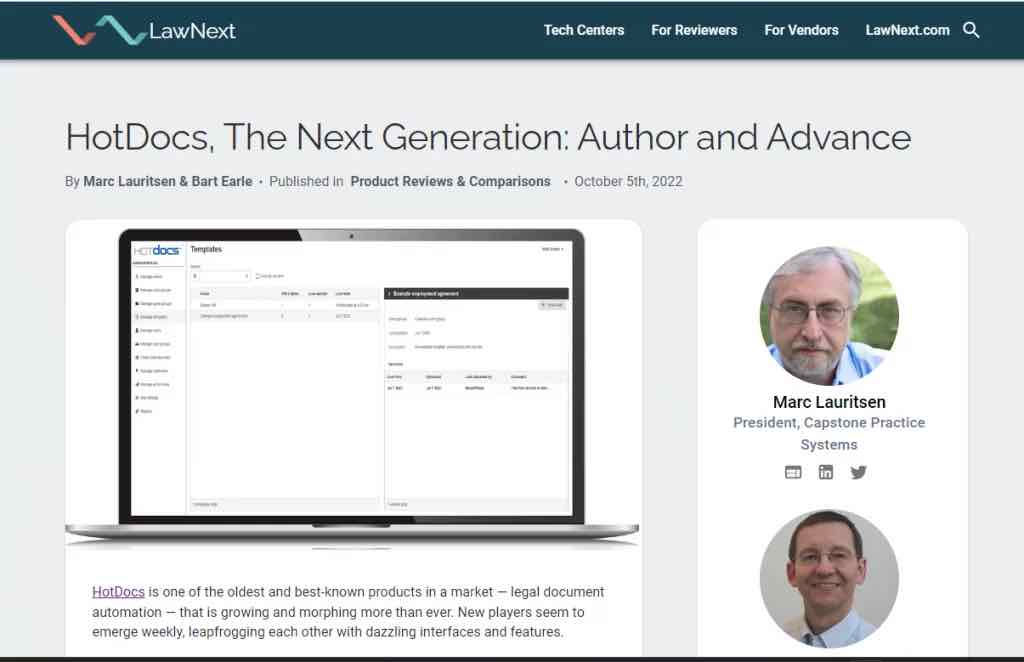 Today we're announcing a redesign of the LawNext Directory, full of new features and design changes intended to make for a better experience for potential consumers, and more frequent and relevant exposure for legal technology products.
In this article, we'll talk about the ways in which these changes will provide greater exposure to our software vendors, but please also take the time to read our announcement on LawSites Blog, which focuses more on the changes a consumer will experience.
Some of the key features we're announcing are:
Major changes to third-party content
Redesigned product and category pages
Rebuilt ranking algorithm
New exposure opportunities for product listings
Third Party Content
We're big believers that the opinions and experiences of users and industry professionals are the most important considerations when choosing any product or service, and we're going all in on that with our redesign.
Resource Library of Original Content Something we hear all the time from legal professionals is that it's near impossible to find articles providing guidance on how to choose and deploy the right software for their practice. To address that gap, we are building a freely accessible resource center of practical articles on legal tech – articles written to help lawyers choose and use tech products, written by experts in technology as well as by those who've used the tech in the trenches of legal practice.
This content is available from our tech center and category pages.
You can read more about this and see examples of articles on LawSites Blog.
We are also actively accepting applications for contributors. Vendors may apply to submit content to this directory, provided it is not strictly self-serving (the ability to add whitepapers and downloads about your own product is reserved for our premium listings), by submitting an application HERE.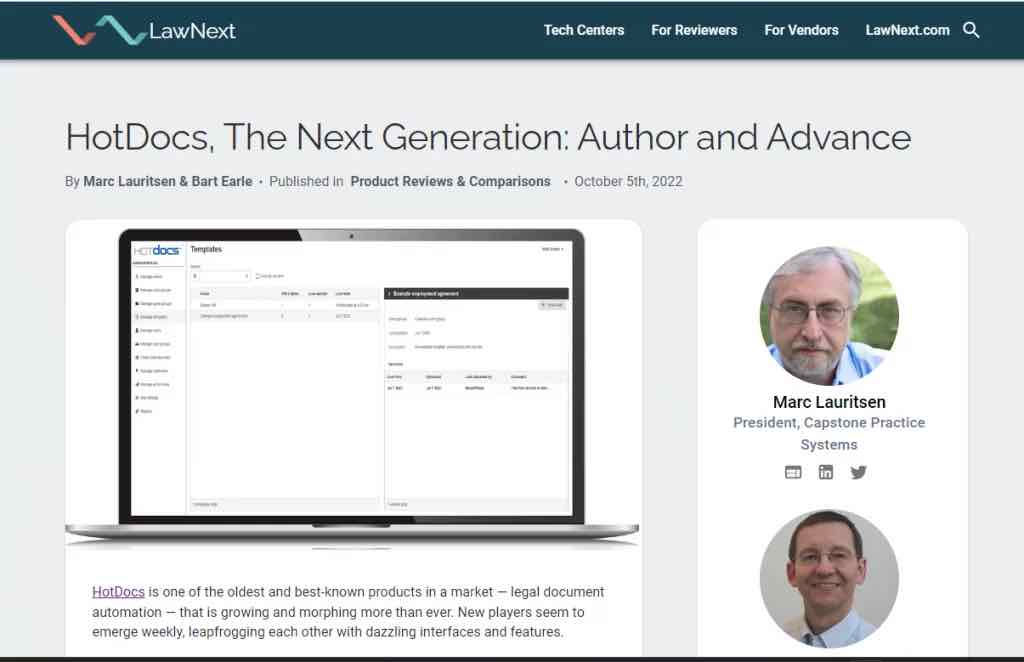 News From Around the Web We are aggregating legal tech news from multiple sources and displaying relevant stories on appropriate pages, including category and tech center pages. So, for instance, if you visit the press section of our Law Practice Management Suites category, you're now able to see coverage about the category and products therein from most leading legal technology publications.
As before, premium listings will also be able to display aggregated news coverage right from their listing pages (upgraded from the standard feed of content published by LawSites Blog).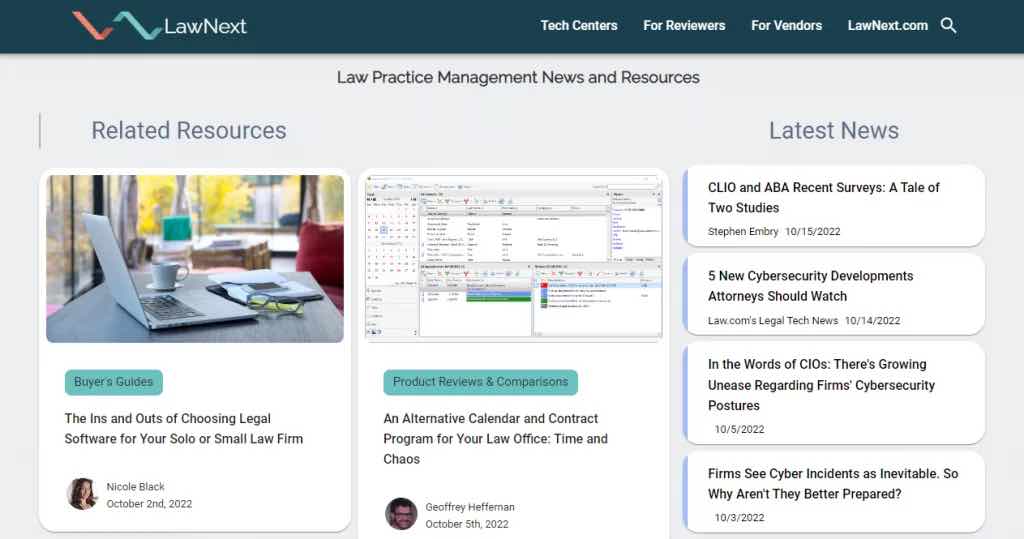 Product Reviews get a Makeover Product reviews are now functional tools for prospective buyers. In addition to just reading a review, potential buyers can now see information about where and how others have used a product, pros and cons, and ratings of specific features.
Additionally, users will now be able to submit reviews right from your product listings.
Having product reviews now plays a much larger role in how your listing is ranked among others in your category, giving all vendors the opportunity for greater visibility, regardless of whether their listing is free or paid.
Finally, premium listings will now be able to access more information from their reviewers (if reviewers choose to submit the additional information), such as direct feedback from the user and other products the user considered.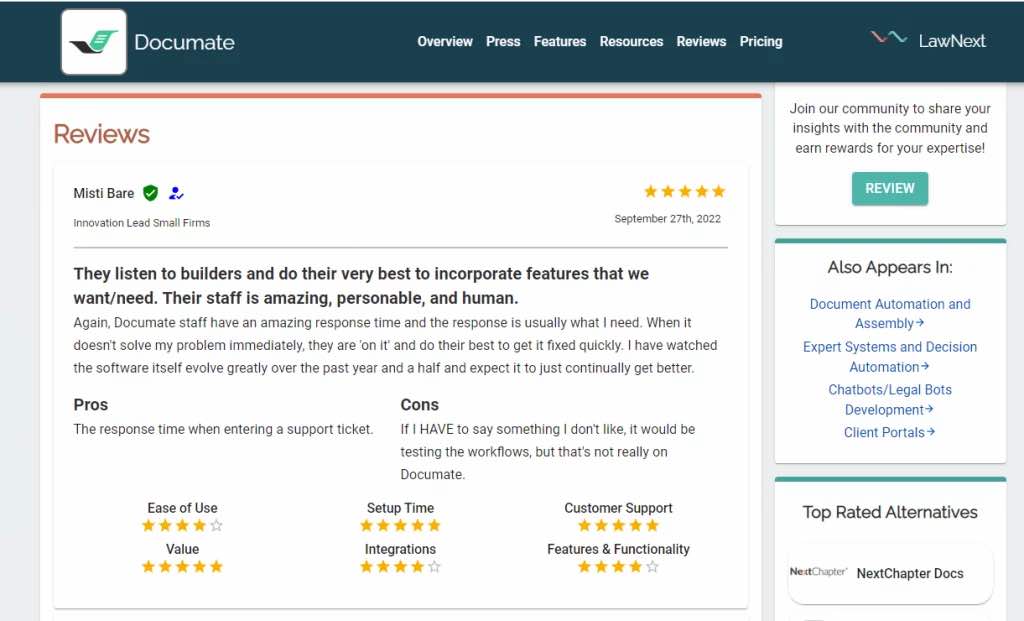 Redesigned Pages
Listing Pages Product listings have received a major facelift, both cosmetically and functionally. Pricing tables, company information, reviews, and product features have all been cleaned up and redesigned to enable a more user friendly flow. LawNext discounts that you offer will now receive greater visibility around the site, and encourage a better flow of users to your contact button.
Additionally, any users who have created How it Works product demos with us will now have those demos featured in a dedicated area of your sidebar.
Our premium listings will now also be able to include their own blog or RSS feed on the sidebar of their listing, which is a great way to draw attention to product updates and press releases.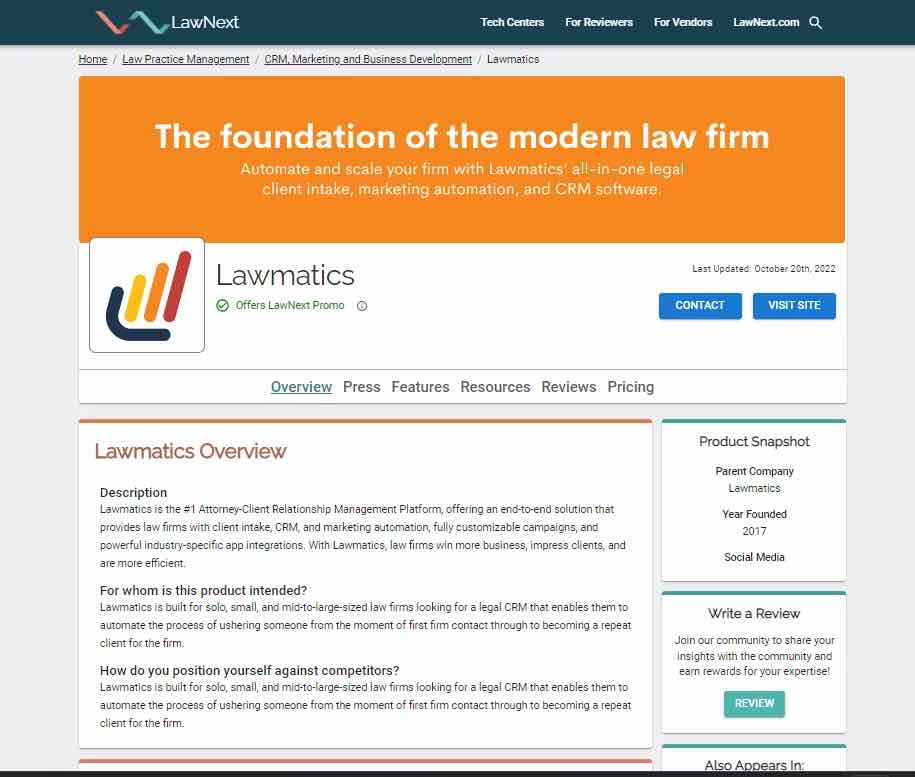 Category Pages and Tech Centers Each software category page has been rebuilt to include more tools for buyers, and more visibility for listings. Category pages now feature Buyer Guides, aggregated press coverage, and our own original content.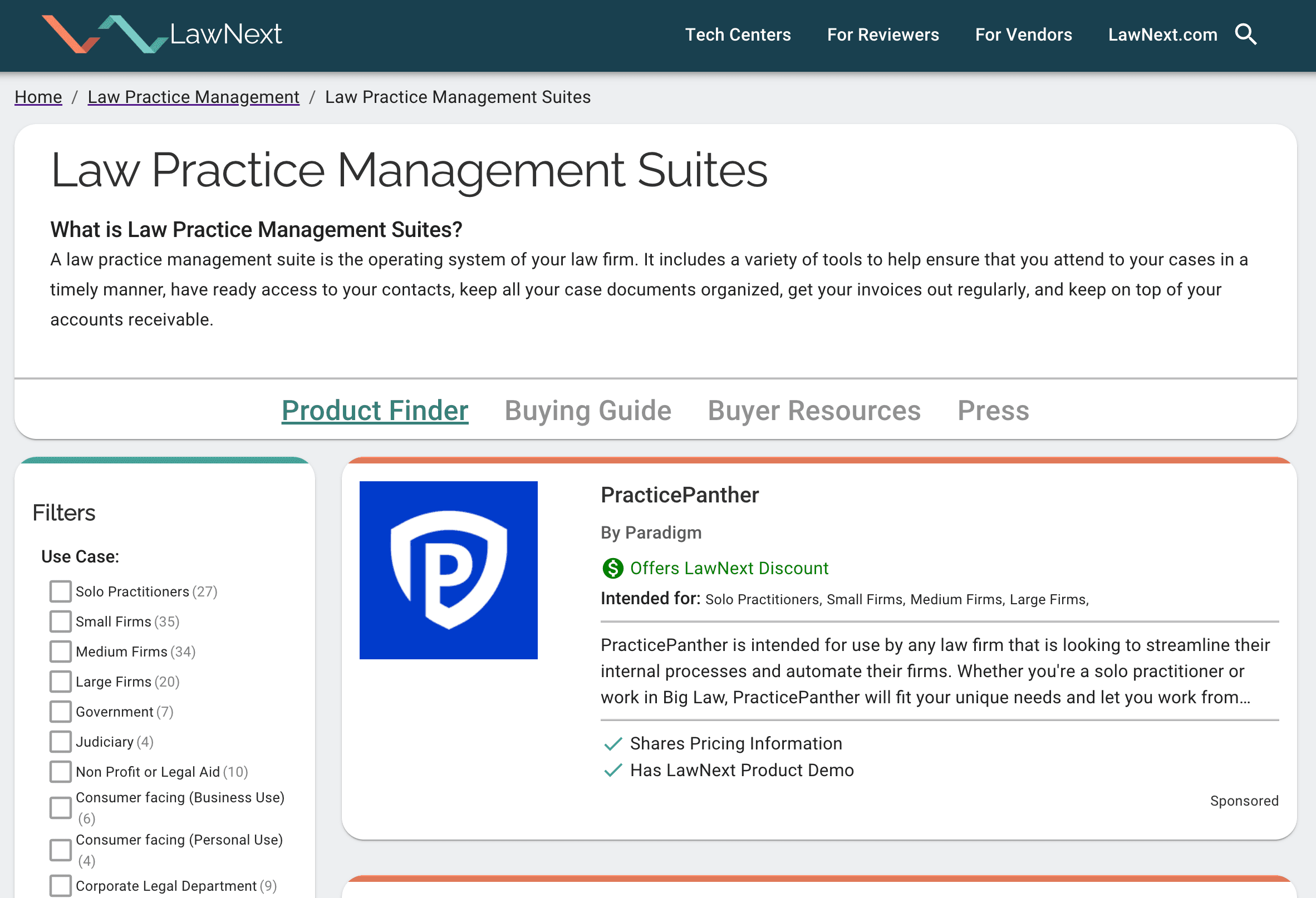 Rebuilt Ranking Algorithm
One of the biggest complaints we had from vendors was that they weren't showing up in the searches they felt that they should be. For this release, we've completely rebuilt the ranking algorithm to deliver results based on relevance and usefulness to a buyer. The new algorithm will take into account:
A product's primary category vs. secondary categories
Reviews and ratings
How completely a vendor has filled out their listing
How recently the vendor has updated their listing (don't worry - confirming that your listing is up to date will soon be an automated process).
As before, we allow for one category sponsor in each category, who will always show up at the top of search results for that category, and will be displayed as a sponsor.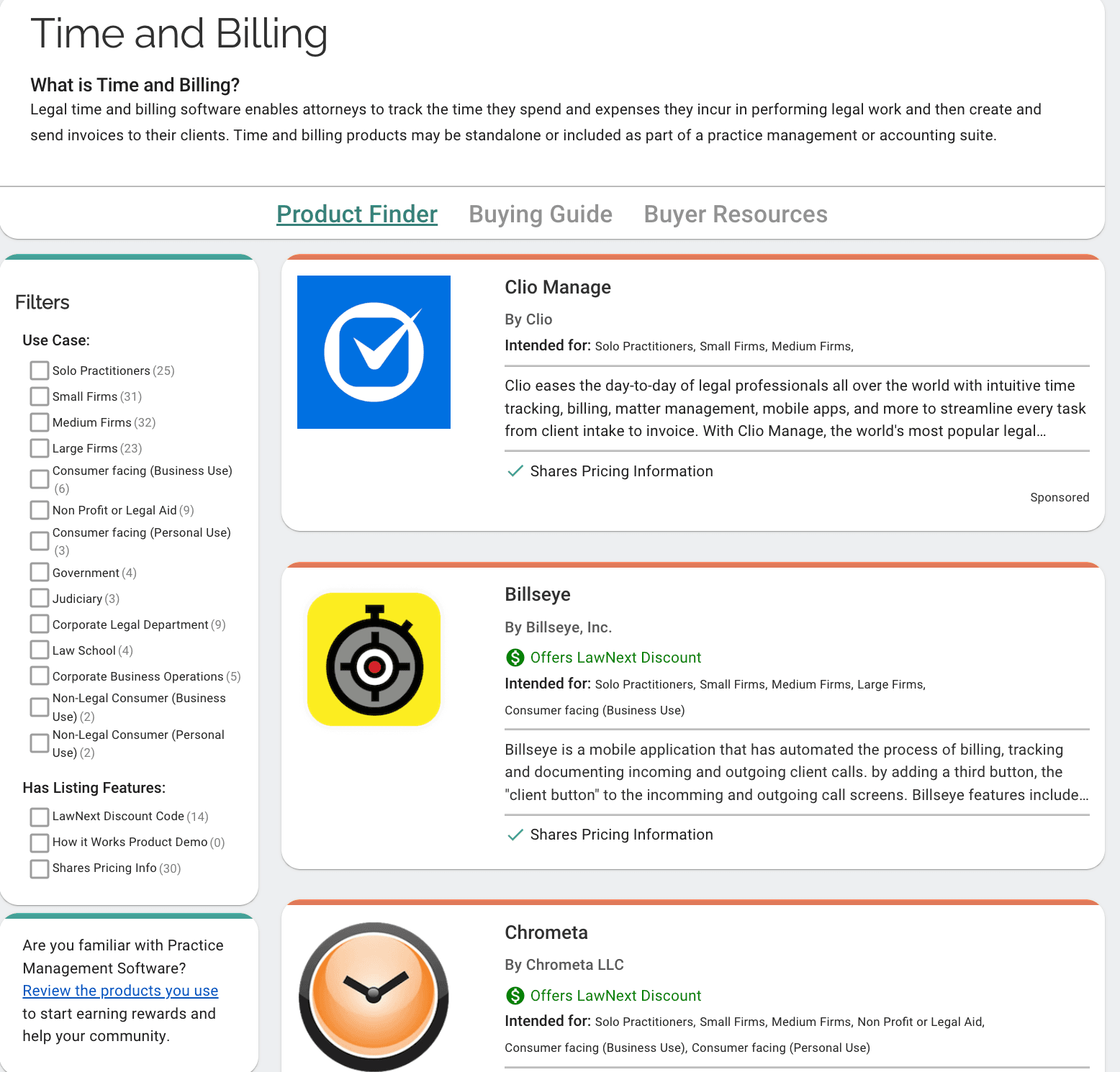 Additional Visibility for Listings
All listings - whether free or paid - will benefit from the changes and features of this release. Article pages, tech center pages, and the new category pages will all be new opportunities to be displayed on the sidebar as a related product. For example, if an article talks about Document Automation, we will display the top ranking Document Automation products (as determined by the ranking algorithm above) on the sidebar of that article.
As before, free listings will display related product alternatives on the sidebar of their listings, and premium listings will be able to hide related alternatives.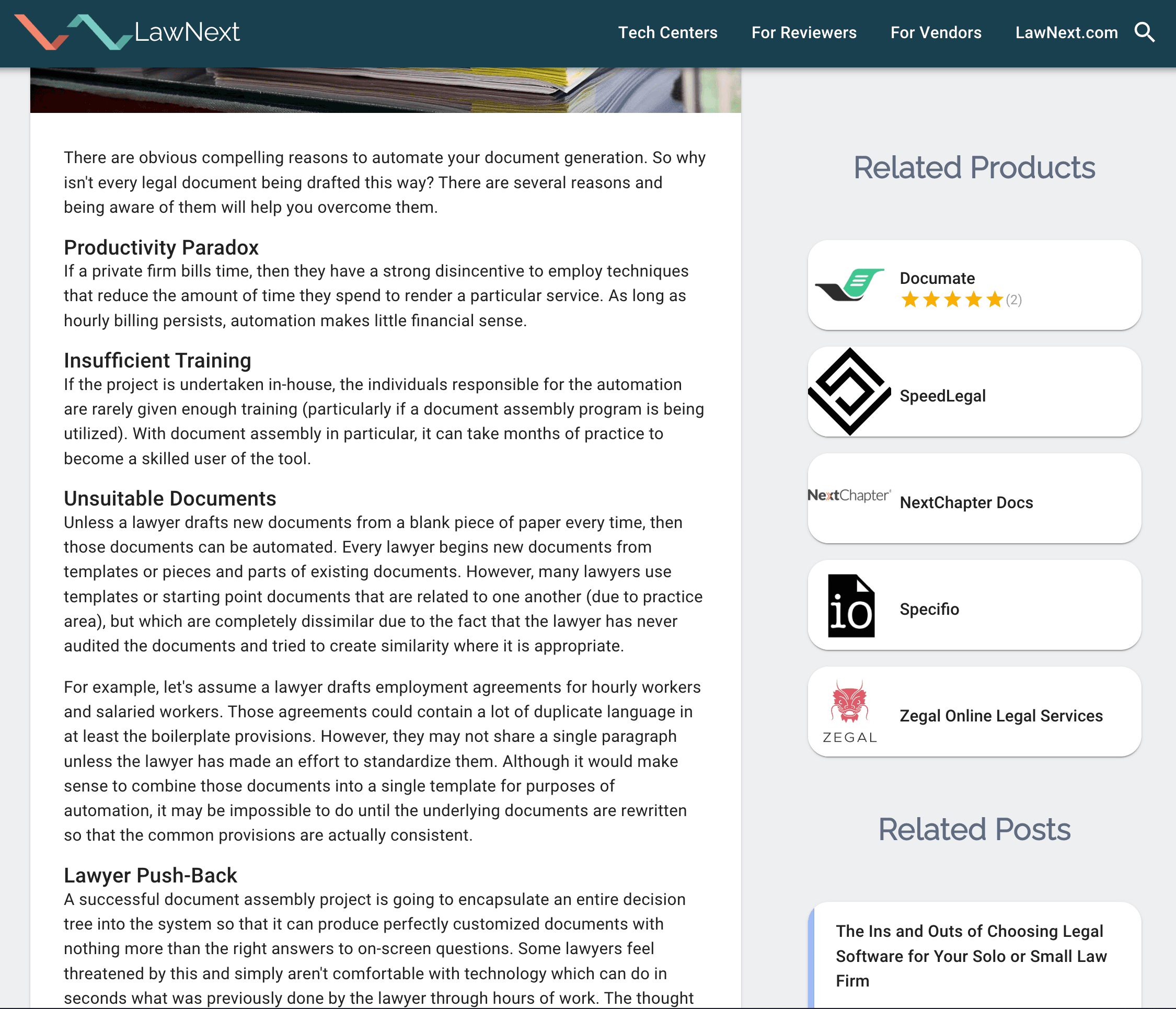 New Features for Premium Listings As mentioned above, Premium listings will receive some additional functionality in this release, including:
Access to direct feedback and additional information from participating reviewers
The ability to fill out additional sections of their listing, which has the potential to boost ranking on search results
A redesigned display of their company blog or rss feed
Coverage from new sources - such as ALM.com - on their product listings
In the coming months Premium Listings will also be able to take advantage of a slew of new features, so stay tuned.
More Exposure for Sponsored Listings Each category supports a single category sponsor, who will benefit from far greater exposure than our first release. With our new ranking algorithm and content pages, sponsors will regularly be able to be the first listing seen across their entire category. This means that if you are the sponsor of Document Automation, you will always appear at the top of the related software list on any articles written about Document Automation.
Sponsors will now receive a dedicated placement on the subpages of their category, including the aggregated press coverage, buyer guide, and resource library.
Finally, we've made a small change to how sponsors are displayed on sidebar ranking results. If a sponsor would organically appear as the first listing in their category anyway, we remove the "Sponsored" label. If a sponsored product appears in positions 2-5 (of the 5 related results on an article), then the sponsor will appear twice: once as a sponsored result, and then again organically.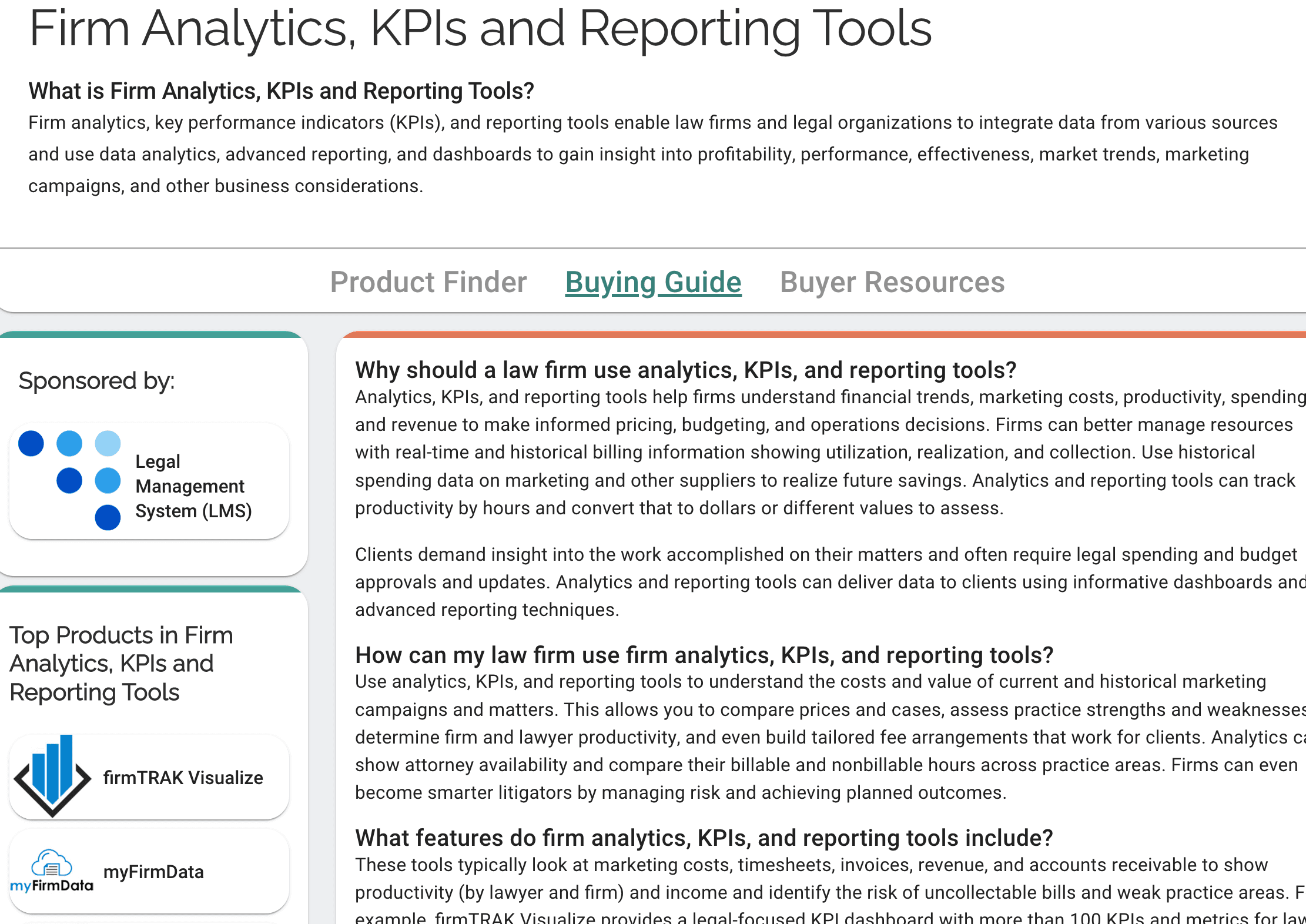 ---